St. Helena Island Ghost Tours
You have been sentenced to spend an evening at the St Helena Island Prison. The nature of your crime?
CULTIVATING A CURIOUS MIND, BEING IN POSSESSION OF A SENSE OF FUN, AND HARBOURING A SPIRIT OF ADVENTURE.
You will be subjected to a hearty meal. On disembarkation, you will march to the dramatic ruins where in the spooky gloom you and your co-conspirators will experience the colourful stories of those who never left the island. Then prepare yourself for the unexpected at the island's cemetery.
On your release from St Helena Prison partake of a delicious dessert and join in a sing-along or just sit back and enjoy the nightscape. Any other night out is dull by comparison!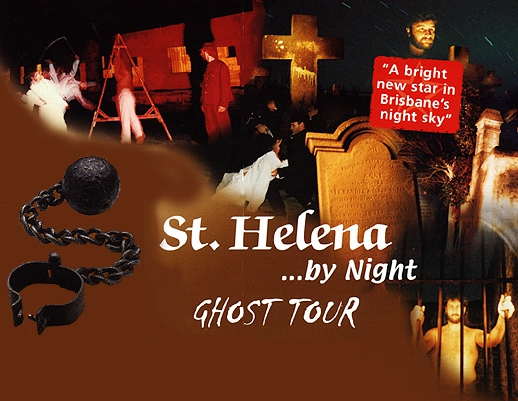 An island rich in – often bleak – history
Standing as a maximum-security men's prison for more than six decades, St Helena Island offers an experience that stands apart from any other historical tour in the state or even the country. In operation from the mid-1860s, the buildings of the prison have remained in remarkably good condition, offering visitors the rare chance to get up close and personal with pre-Federation life, crime and punishment.
While a joy to history buffs of any interest, the island is also an excellent choice for anyone with an interest in horror the macabre. The partially-ruined barracks and workhouses of the prison create an unsettling atmosphere, further enhanced by stories of prison life and death from our skilled and talented performers.
Make an enquiry today
St Helena Island is available for tourist visits and school groups, making it the perfect location for an educational field trip or family day trip. Fun and informative, it's an experience you, your family or your students won't soon forget. Just 30 minutes from Manly in Brisbane, it's a convenient and fun getaway that's definitely out of the ordinary.
Get in touch with our staff today to find out more about our ghost tours and group and private day trips, or to make a booking. Send us a message through our contact form or via email at info@sthelenaisland.com.au. You can also reach us over the phone on 1300 438 787.